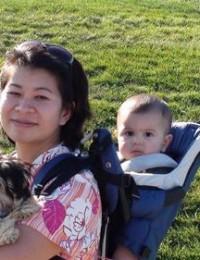 Veterinarian and Owner, DVM, CVA, CCRT
Dr. Chau is a graduate of the Virginia-Maryland Regional College of Veterinary Medicine (Virginia Tech). She has a Doctorate of Veterinary Medicine, and has also trained and been certified in Veterinary Acupuncture. She is also a certified Canine Rehabilitation Therapist which she believes compliments both her surgical skills as well as her training in acupuncture therapy. She has been in practice for 12 years in the DC metro area. She has substituted for board-certified specialists in the area, and has worked at some of the highest quality veterinary care facilities in Virginia and Maryland.  In addition to her doctorate, she has pursued hands-on training in a variety of specialized skills, traveling to: Wisconsin, Colorado, Florida and New Jersey over the last 5 years to complement her veterinary medicine with:
Advanced Dentistry training in Florida
Echocardiograms by ultrasound in New Jersey
A multi-year course in acupuncture in Florida
A multi-year course in rehabilitation in Colorado and Florida
And endoscopy training in Illinois
Dr. Chau is the proud mother of three wonderful boys. When she's not running two successful veterinary hospitals she is often gardening, biking, or spending time with her husband and sons. She helps care for her friend's dog named Piper (who lived with Dr. Chau until her son developed severe allergies), whom she still views as one of her own.